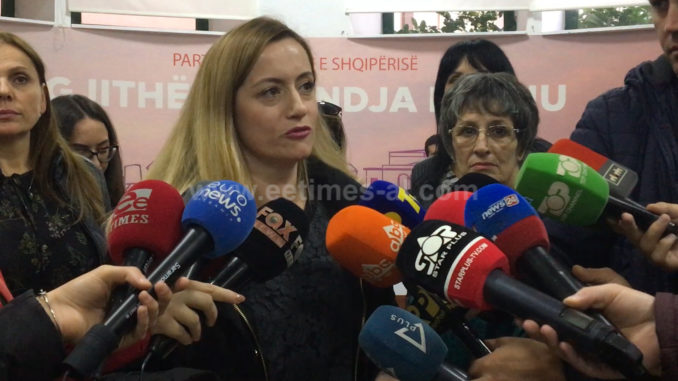 Ish-zëvendëskryeministrja socialiste, Senida Mesi në një intervistë për "Gazeta Shqiptare" vlerëson si të domosdoshme nisjen e dialogut politik mes mazhorancës dhe opozitës si mënyra më e mirë për t'i dhënë vendit stabilitet politik. Ky dialog sipas saj mund të nisë pikërisht me reformën zgjedhore, e cila sipas saj duhet të kalojë edhe me dakordësinë e opozitës jashtëparlamentare.
Madje ajo shprehet se mazhoranca është e gatshme që t'i japë mundësinë opozitës që ta hartojë ajo draftin final të kësaj reforme. Sa i përket sistemit zgjedhor, deputetja socialiste shprehet e hapur për çdo lloj sistemi që sjell një përfaqësim më të mirë në Kuvend, ndërsa personalisht përkrah një sistem proporcional rajonal miks me lista të hapura. Ajo përjashton mundësinë e zgjedhjeve të parakohshme pa u finalizuar më parë reforma zgjedhore dhe ajo në drejtësi.
Lidhur me situatën në Shkodër ajo thekson se i vjen keq që këtij qyteti iu mohua ndryshimi i kërkuar për shkak të mashtrimit me deklarimin e dekriminalizimit nga ana e kryebashkiakut Valdrin Pjetri. Ndërkohë që bën me dije se shumë shpejt PS do paraqesë ndryshime në ligjin e dekriminalizimit ku parashikohet vetëm burgim për ata që bëjnë deklarime të rreme. Ndërsa për fatin e zgjedhjeve në këtë qytet, ajo thekson se Presidenti duhet të dekretojë datën e re, në të kundërt Kuvend mund të miratojë një dispozitë të veçantë që t'i japë kompetencë KQZ të përcaktojë datën e zgjedhjeve në këtë bashki.
Zonja Mesi po bëhen më shumë se 10 muaj që opozita është larguar nga parlamenti duke sjellë një ngërç politik në vend ku dy kampet kryesore politike e kanë të vështirë të komunikojnë drejtpërdrejtë. Politikanë të njohur ndërkombëtarë kanë bërë thirrje për zgjidhjen e saj sa më parë. Mendoni se do ketë një zgjidhje të shpejtë të kësaj situate dhe cila mund të jetë ajo?
Situata politike mes partive tradicionale është e pa precedentë dhe si rezultat askush nuk e ka formulën magjike apo një recetë të gatshme për mënyrën më të mirë dhe më të shpejtë të zgjidhjes së situatës. Mendoj se pavarësisht kësaj, dy janë komponentët kryesorë që nevojiten në këtë rast në interes të vendit: vullnet politik i qartë për zgjidhje dhe dialog mes të gjithë aktorëve. Megjithatë, sfida më e madhe sot në këto kushte ngërçi është udhëheqja e politikave zhvilluese dhe reformuese thelbësorë për prosperitetin e çdo qytetari dhe me qëllim që ajo që bëjmë sot t'i shërbejë gjeneratës tjetër e brezave të ardhshëm. Politika nuk është thjesht fitimi apo humbja e zgjedhjeve apo akumulimi i pushtetit sikurse mund ta shohin disa, por është shumësi procesesh dinamike me ndikim tek e ardhmja e vendit. Ndaj çdo vendim ka pasoja dhe duhet marrë shumë seriozisht. Në këtë kuptim, situata ku jemi sot nuk është vetëm thjesht ngërç politik, por ka cenuar të gjithë proceset politikëbërëse dhe vendimmarrëse demokratike. Ky, në fakt, duhet të ishte edhe shqetësimi kryesor i opozitës dhe shtysa për vullnet politik për t'u ulur në tryezë dialogu. Sepse dialogu është baza e zgjidhjes së çdo krize në politikë. Në politikë funksionojnë garat, të njohura zgjedhje dhe në zgjedhje ka fitues dhe jo fitues që jo domosdoshmërisht janë humbës. Opozita, së cilës ju i referoheni në këtë rast, jo vetëm ka humbur zgjedhjet, por ka humbur edhe pjesëmarrjen demokratike parlamentare, nëpërmjet së cilës mund të ishte pjesë e komunikimit parlamentar, ndryshimeve ligjore, vendimmarrjes politike dhe me gjerë. Ajo ka zgjedhur që përveç humbjes politike në garë, të humbasë edhe pjesëmarrjen elektorale, siç bëri me 30 qershor (e paprecedent edhe kjo) dhe në vijim të humbasë edhe elektoratin e saj. Opozita jashtë parlamentit po luan jashtë çdo principi demokratik dhe parlamentar. Këtë nuk e them unë, por e kam dëgjuar në çdo takim me politikanë ndërkombëtar.
Një mekanizëm zhbllokues në rastin konkret mund dhe duhet të jetë pikërisht rezoluta që Bundestagu gjerman ka aprovuar në lidhje me procesin integrues të Shqipërisë në BE. Vendet partnere të BE por në veçanti dhe partneri ynë strategjik, SHBA-të, kanë bërë thirrje here pas here në lidhje me gjetjen e zgjidhjes mes partive politike maxhorancë- opozitë. Një theks të veçantë këtu do i jepja reformës zgjedhore, si zgjidhja më afatgjatë dhe ligjore e ngërçit politik. Sigurisht edhe kjo kërkon gjithëpërfshirje, dialog por mbi të gjitha dakordësim mes të gjitha partive politike për opsionin më të mirë në interes të vendit dhe shqiptarëve. OSBE-ODHIR kanë bërë rekomandime shumë specifike lidhur me Reformën Zgjedhore në Shqipëri. PS-ja si partia më e madhe në vend dhe partia qeverisëse i ka bërë disa herë thirrje opozitës jashtë institucioneve demokratike dhe çdo partie tjetër politike në vend për tu ulur së bashku në një tryeze dhe për tu dakordësuar për këtë reformë. Vetëm pas këtij dakordësimi mund të shohim dhe zgjidhjen, dhe sigurisht zgjedhjet e ardhshme të zhvillohen mbi kodin elektoral të reformuar.
Një nga çështjet për të cilën së fundmi palët po tregojnë interes është edhe reforma zgjedhore. Mendoni se shumica qeverisëse duhet ta kalojë këtë reformë pa pëlqimin e opozitës reale, asaj jashtë parlamentare?
Sikurse shpjegova më lart, në vetvete reforma zgjedhore mund të jetë dhe zgjidhja e ngërçit politik. E patjetër si e tillë ajo duhet të përfaqësoj të gjithë aktorët politik në Shqipëri. Ne jemi të gatshëm që draftin përfundimtar ta shkruaj edhe PD-ja apo LSI-ja ose të dy bashkë, dhe nëse ajo merr pëlqimin dhe të OSBE-së dhe të partnerëve tanë ndërkombëtar, ne kemi vullnetin për ta kaluar në Kuvend për votim dhe aprovim. Reforma zgjedhore nuk është e PS-së, por është një reforme e cila prek në themel Kodin Zgjedhor. Deri tani propozimet përkatëse janë ne lidhje me: reformimin e administratës zgjedhore; adresimin e rekomandimeve për financimin e fushatës; rritjen e barazisë gjinore; sjelljen e administratës publike në fushatë dhe pasqyrimin në media. Depolitizimi nënkupton garantimin e mbajtjes së duarve larg nga administrata zgjedhore si për Partinë Socialiste, ashtu edhe për Partinë Demokratike, apo çdo parti tjetër politike në vend. Nuk mund të ketë ndryshim të praktikave me zgjedhjet, korrigjim të defekteve dhe përmirësim të standardeve të tyre pa dorëzuar plotësisht kontrollin mbi administrimin. Partia Socialiste e ka kuptuar këtë dhe është e gatshme të bëhet pjesë e këtij 'revolucioni' në administrimin zgjedhor. Fatkeqësisht, duket se kolegët e opozitës jashtëparlamentare nuk e kanë kuptuar ende.
Ndërkohë që opozita brenda parlamentit ka vendosur si kusht ndryshimin e sistemit zgjedhor. Është e gatshme PS që të pranojë ndryshimin e sistemit zgjedhor dhe cilin do të përkrahnit ju?
Sot Shqipëria ka një sistem elektoral proporcional në bazë qarku (12 qarqe, 12 zona zgjedhore) me lista të mbyllura të propozuara nga secila parti politike që regjistrohet për të marrë pjesë në zgjedhje. Numërimi i votave dhe përkthimi i tyre në mandate përfaqësimi në Kuvend bëhet duke përdorur metodën d'Hondt, e cila favorizon më shumë partitë ose koalicionet më të mëdha. Kështu që është shumë racionale si kërkesë dhe e thjeshtë për të kuptuar nga buron kjo kërkesë e opozitës parlamentare. Ato kërkojnë më shume shanse për veten e tyre që të jenë edhe nesër pjesë e Kuvendit të Shqipërisë. Debati më i madh që qëndron sot në Shqipëri është: A duhet të kemi lista partiake të mbyllura, pra ku deputetët në Kuvend i përcakton Partia apo lista të hapura, ku është elektorati që përmes votës përcakton se kush do e përfaqësojë në Kuvend. A duhet të kemi një sistem proporcional kombëtar, ndoshta me një korrektim të formulës, për të siguruar edhe përfaqësimin sipas zonave, por edhe duke riparë pragun për partitë e vogla. Aktualisht trendi botëror po shkon gjithnjë e më shumë drejt sistemeve proporcionale ose drejt forcimit të elementeve proporcionale nëpër sistemet mikse. Sistemi proporcional miks mund të ishte një mundësi e mirë dhe për vendin tonë, ku zgjedhjet mund të organizohen në atë formë që deputetët të zgjidhen përmes listave rajonale të hapura nëpër zona zgjedhore në mënyrë që përgjegjësia e deputetit të lidhet me një komunitet të caktuar, dhe listat e mbyllura të partisë ku elektorati voton për partinë dhe % e saj përkthehen më pas në mandate. Në këtë mënyrë të gjithë ata që fitojnë një zonë zgjedhore marrin një karrige në Kuvend dhe më pas jepen vende shtesë për të siguruar që partitë të përfaqësohen në përpjesëtim me pjesën e tyre të votave të partisë. Kjo ka një numër avantazhesh. Për dallim nga përfaqësimi i listave të partive, njerëzit ende kanë përfaqësues direkt te zonës se tyre. Megjithatë, të gjitha opsionet duhet të diskutohen përmes dialogut të gjerë dhe gjithëpërfshirës.
Ndërkohë që në korridoret politike po flitet gjithmonë e më shumë për zgjedhje të parakohshme në pranverën e ardhshme parlamentare dhe lokale. E shikoni të mundshme një gjë të tillë?
Përpara kemi shumë sfida, dhe një ndër to është edhe stabiliteti politik si kusht themelor për progresin e demokratizimin e mëtejshëm. Pa u përfunduar reformat më të rëndësishme siç është ajo e drejtësisë dhe reforma zgjedhore nuk shoh gjasa që vendi të kalojë në stërmundime dhe shpenzime nga buxheti për zgjedhje të cilat vetëm do kishin kosto për xhepat e Shqiptarëve, por nuk do të sillni asnjë risi. Mendoj që ndryshimi maksimal që mund të pritet në këto kushte janë ndryshime që vijnë si rezultat i nevojës për energji dhe shtysa të reja në qeverisje në sektor të caktuar.
Të mos harrojmë dhe një fakt, PS-ja është partia më e madhe në vend, dhe nëpërmjet parimit 'një anëtar një votë' u zgjodhën dhe delegatët e kongresit, punimet e të cilit do të jenë në fillim të vitit që vjen me një pjesëmarrje dhe organizim të shkëlqyer të anëtarësisë së partisë në çdo bashki. Jemi më të organizuar dhe mobilizuar se asnjëherë dhe në çdo palë zgjedhje do hynim me një avantazh të dukshëm në krahasim me çdo parti tjetër në vend. Çdo proces zgjedhor parlamentar në këtë situatë, pa përfunduar reforma në drejtë dhe pa përfunduar kodi i ri zgjedhor nuk është në dobi të Shqipërisë.
Zonja Mesi, si e zgjedhur e Shkodrës në Kuvendin e Shqipërisë, ju keni ndjekur nga afër edhe zhvillimet që kanë ndodhur në këtë bashki në gjithë këto muajt e fundit. Ndaj mund të ndani me ne çfarë ka ndodhur që është krijuar kjo situatë në Shkodër?
Në Shkodër fituam Kryetarin e Bashkisë, por sot nuk e drejtojmë Bashkinë. Situata e krijuar pas dorëheqjes së kryetarit të shpallur fitues në Shkodër si rezultat i deklarimit të rremë në formularin e vetë-dekriminalizimit bëri që Shkodra sot të drejtohet nga e njëjta kryetare e 4 viteve të fundit, që sot është kryetare në detyrë. Më vjen shumë keq për situatën e krijuar, jo vetëm për anëtarët e PS-së në Shkodër, por edhe për qytetarët që votuan për ndryshim politik në qeverisjen e Shkodrës. Më vjen keq pasi Shkodra meritonte vizion të ri për zhvillimin e saj. Ky rast mbështet qasjen e PS-së, që si parti e madhe nuk mund të jetë peng i sjelljes së një individi, i cili duhet të japë llogari individuale para ligjit. PS-ja edhe njëherë tregoi me veprimet e saj që gjithmonë vendos të parin interesin publik dhe respektimin e ligjit. Dhe për të qëndruar tek ligji së shpejti do kalojmë për aprovim në Kuvend dhe propozimin për ndryshim në ligjin e dekriminalizimit që kush bën deklarim të rremë në vetë-deklarim të penalizohet direkt me burg. Pas vendimit të kryesisë së PS-së për shkrirjen e të gjithë strukturave në PS Bashkia Shkodër, sot pas 2-3 muajsh zgjedhje në organizatat socialiste dhe riorganizim të Partisë jemi në linjë me të gjithë partitë nëpër Bashki, duket synuar që deri në fund të vitit të kemi edhe anëtarësinë e rifreskuar dhe strukturat drejtuese. Sot jemi vetëm 2 deputetë të angazhuar deri ne nivel teknik dhe të përditshëm me riorganizimin e Partisë, ku unë në veçanti po mbuloj pjesën e qytetit. PS Shkodër ka nevojë për një ripërtëritje cilësore dhe sasiore për t'u shkëputur nga e kaluara dhe kompleksi i humbjes në ballafaqimet lokale. Për këtë po kërkojmë dhe kemi hapur portat për të rinj dhe intelektualë të shkolluar brenda dhe jashtë vendit. Të tjerë do vijnë dhe janë të mirëpritur. Koncepti progresist dhe reformator duhet të mbizotërojë, ndryshe Shkodra nuk fitohet nga e majta. Duke filluar nga viti që vjen PS Shkodër do ketë më të mirët pranë saj. Ato që duan t'i japin jo vetëm partisë, por dhe qytetit. Po punoj për të rritur frymën e ekipit edhe pse në organizimet partiake në Shqipëri një gjë e tillë është ende e vështire, por jo e pamundur.
Si do të zgjidhet çështja e zgjedhjes së kryetarit të ri të Bashkisë së Shkodrës?
Bashkisë Shkodër do të duhet t'i dekretohet një date e re zgjedhore për zgjedhje të pjesshme të parakohshme për kryetar bashkie. Deri tani kjo nuk ka ndodhur nga ana e Presidentit, i cilin është Institucioni i vetëm që ka këtë detyrë kushtetuese. E kam deklaruar dhe më parë që me këtë President apo me tjetër, Shkodra do ketë zgjedhje të parakohshme të pjesshme dhe do të ketë kryetarin e saj të zgjedhur. Në të kundërt Kuvendi mund të miratojë një dispozitë të veçantë që t'i japë kompetencë KQZ-së për të përcaktuar një datë zgjedhore për Shkodrën.
Lajmin e plote mund ta lexoni ne GSH.al: GSH.al