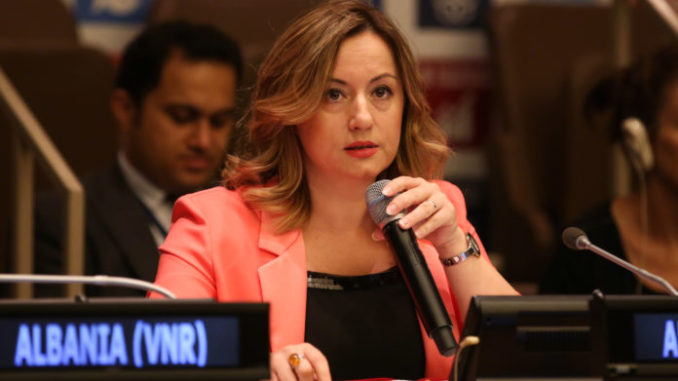 Komisioni Europian publikoi raportin për Shqipërinë dhe Maqedoninë e Veriut, ku i rirekomandon Këshillit të Europës, i cili do të mblidhet në fund të muajit mars fillimin e bisedimeve pë anëtarësim.
Në një prononcim për Eunews.al, nënkryetarja e Komisionit të Integrimit Europian në Kuvendin e Shqipërisë, Senida Mesi deklaron se Komisioni Europian rekomandon për të tretën herë fillimin e bisedimeve për anëtarësim për Shqipërinë, duke argumentuar që vendi ka bërë progres në fushat prioritare.
Sipas Mesit, Komisioni ka parashtruar propozimin e tij për të çuar përpara procesin e pranimit në BE nën kuadrin edhe të metodologjisë së re, duke i qëndruar besnike dhe kollonave kryesore që procesi duhet të jetë: më i besueshëm, më dinamik, më i parashikueshëm dhe me drejtim më të fortë politik.
"Kjo rikonfirmon dhe njëherë përgjegjshmërinë e kësaj maxhorance jo vetëm për të filluar këto reforma, por për ti thelluar ato në dobi të vendit. KE ka vlerësuar Shqipërinë në lidhje me përparimin në zbatimin e reformës në drejtësi dhe procesin e verifikimit të gjyqtarëve dhe prokurorëve, në rrugën e duhur të demonstruar në luftën kundër korrupsionit dhe krimit të organizuar, duke përfshirë edhe kur bëhet fjalë për kultivimin e kanabisit dhe trafikun e drogave të forta. Ai gjithashtu tregon çështje të tjera të rëndësishme, të tilla si marrëveshja për reformën zgjedhore dhe përpjekjet për të adresuar kërkesat e azilkërkuesve.
Duke u ndalur në realizimin e pikave të aprovuara nga Bundestagu dhe solidaritetit të treguar nga vendet e BE në konferencën e donatorëve për mbështetjen në rindërtimin e vendit pas tërmetit të 26 Nëntorit, Shqipëria pret që me 6 7 Maj në samitin e Zagrebit mes vendeve të BE dhe Ballkanit Perendimor të vendoset hapja e negociatave për anëtarësim.
"Një gjë është e sigurtë, sido që të jetë vendimi, reformat do vazhdojnë, pasi ato: sigurojnë qeverisje më të mirë dhe transparente Rrisin besueshmërinë e popullit tek qeverisja, Rrisin investimet direkte dhe garantojnë asitencën teknike dhe financiare nga BE, si dhe Shënojnë progres e sigurojnë shtetin e së drejtës dhe të ardhme më të sigurtë dhe Shqipëri më të fortë" deklaron Mesi.