Prej pak ditësh, Alketa Vejsiu ndodhet në Florida për të marrë pjesë në seminaret e Tony Robbins, një nga figurat më të njohura që ka frymëzuar miliona biznesmenë dhe njerëz të suksesshëm anembanë botës. "Këtu ku ndodhem në këto momente jam nxënëse e një njeriu frymëzues që ka ndryshuar qindra mijëra jetë në mbarë globin si Tony Robbins," shkroi moderatorja në Instagram me rastin e ditëlindjes.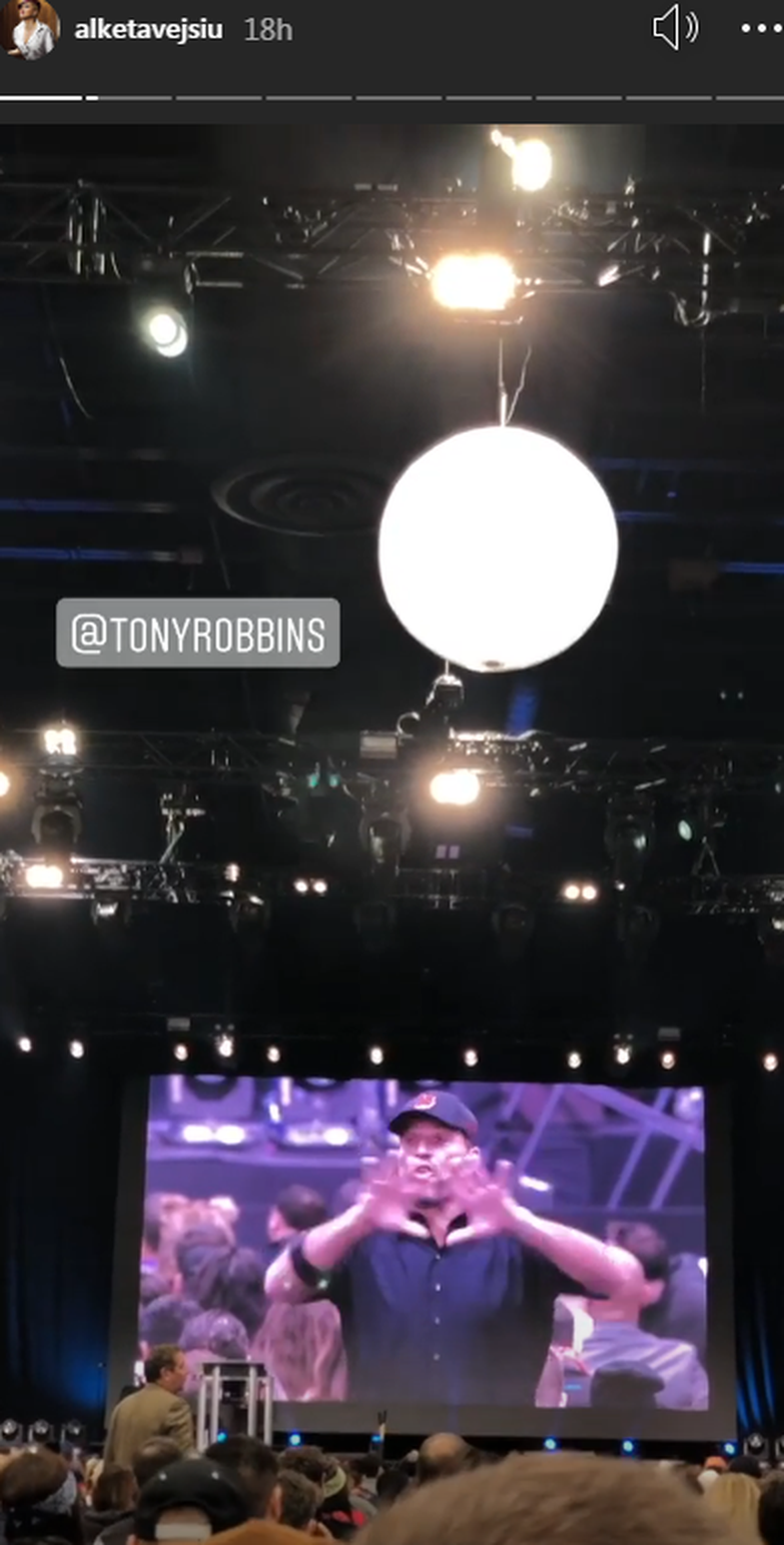 Një nga shprehjet më të njohura të folësit frymëzues është: "Nëse flet për të, është një ëndërr. Nëse e përfytyron, është e mundur. Nëse e planifikon, është e vërtetë." Pikërisht nga kjo filozofi pune duhet të jetë frymëzuar edhe Vejsiu, të cilën ëndrrën e saj – pra Sanremon – ka kohë që e pranifikon dhe programon, ndonëse disa detaje nuk i kemi vënë re.
Përmendja e vazhdueshme e televizionit italian
Qershor 2017
Rreth tre vite më parë, në një intervistë për "E Diell", asokohe drejtuar nga Adi Krasta, Alketa Vejsiu e cilësoi tregun mediatik shqiptar si "tavan" dhe jo si "një qiell të pafundëm".
"Mendoj që Shqipëria është një tavan, nuk është një qiell i pafundëm," tha ajo. "Mendoj që mund të kisha bërë diçka shumë më të mirë në një treg më të madh sesa Shqipëria. Italia do të kishte qenë një orientim shumë i mirë për mua, sepse më duket shumë afër Shqipërisë. Nuk e di pse Shqipëria dhe Italia më duken si një gjë e madhe e përbashkët kohëve të fundit. Kam patur si frymëzim dhe si pikë të mirë orientimi kohëve të fundit zhvillimet e Fascino-s, shoqëria e Maria De Filippi-t, një grua absolutisht e suksesshme me një intuitë fantastike për të zgjedhur ato që duhet[…] De Filippi dhe skuadra e saj janë një pikë e mirë orientimi për mua."
Dhjetor 2018
Në një monolog në finalen e "Dance with me", moderatorja u shpreh: "Unë kam bërë një copëz rruge, mendoj se kam shuumë për të bërë [përpara]. Kam bërë një shkallë të vogël drejt ëndrrës sime, po kam ende shumë punë. Jam në prag të një ëndrre të madhe, të cilën do ta ndaj kur të vijë momenti."
Prill 2019
Gjatë intervistës së Kledi Kadiut në "Në kurthin e Piter Pan", Alketa e mbylli mbrëmjen duke i thënë balerinit "Bëj të fala Maria De Filippi-t dhe falenderoje për gjithë çfarë ka bërë për shqiptarët dhe thuaji që herët a vonë do të takohemi."
Dhjetor 2019
Kur Mahmood performoi në natën e parë të "Festivalit të Këngës", Alketa theksoi sërish se ndoshta do të takoheshin sërish, duke cekur pak ëndrrën e saj për të prezantuar Sanremo-n. "Ta uroj sepse je e zonja," u përgjigj reperi.
Njohja me emra të njohur të televizionit italian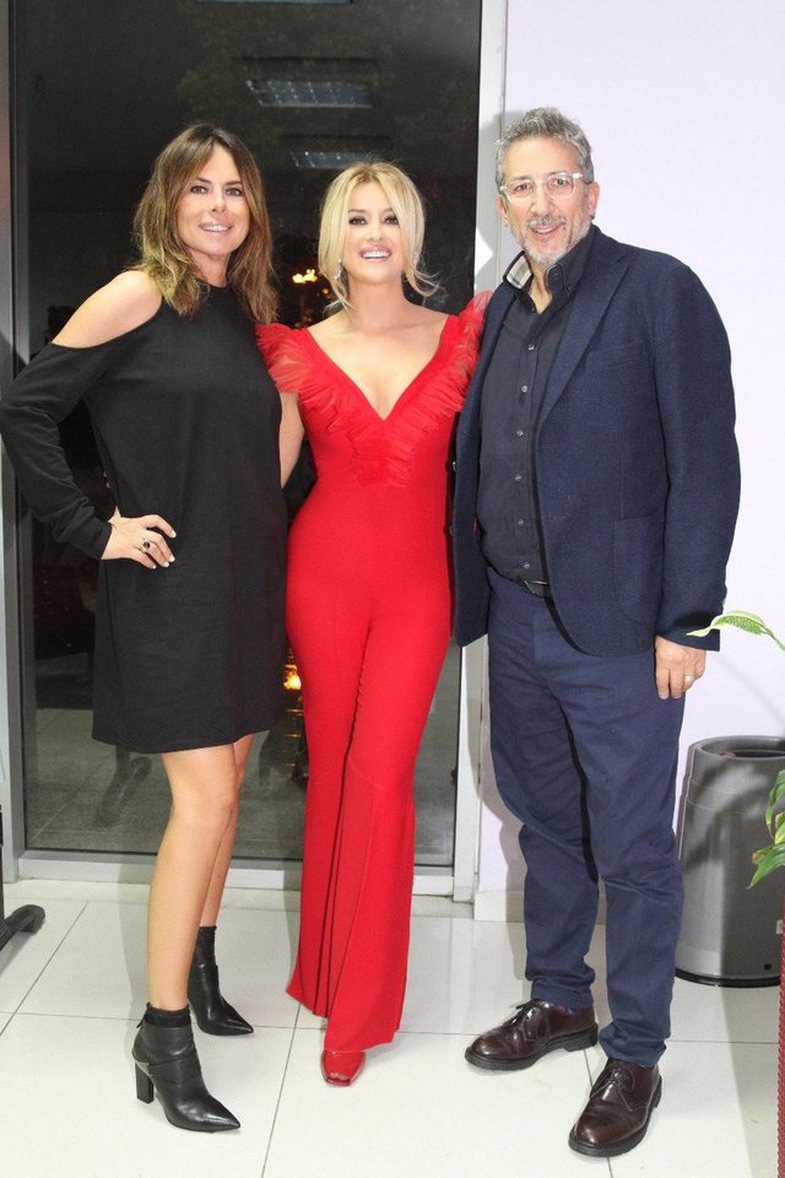 Shtator 2017
Tre vite më parë, Vejsiu u fotografua në shoqërinë e Lucio Presta, një nga menaxherët më të njohur të figurave të suksesshme në Itali, si Roberto Benigni, Paolo Bonnolis, Belen Rodriguez, Simona Ventura, Gianni Morandi, Lorella Cuccarini, Antonella Clerici, Amadeus etj. Pak ditë më parë, në një intervistë për Anabel.al, Vejsiu u shpreh se "Sanremo ka qënë një ëndërr e saj që e vogël". "Unë kam dy vjet që së bashku me menaxherin tim atje, Lucio Presta (menaxher edhe i Bonolis, Begnini, Perego dhe Belen Rodriguez) po punojmë për hyrjen time në tregun italian."
Nëntor 2017
Asokohe, Alketa u përfol se ishte takuar me moderatorin e njohur italian, Paolo Bonolis dhe mund të largohej nga Shqipëria. "Ka pasur shumë tituj online të hamendesuar këto kohë!" tha ajo për Gazetën Shqiptare. "Filloj një spektakël të ri në Klan. Kam pasur gjithmonë një qasje për të bërë diçka edhe përtej kufijve dhe jam në rrugë të mirë. Vetëm kaq mund të them tani."
"Do bëj atë që bën Paolo Bonolis. Ai është stili i prezantuesit që pëlqej. Me humor, me batuta, me përmbajte," shtoi ajo për formatin "Në kurthin e Piter Pan".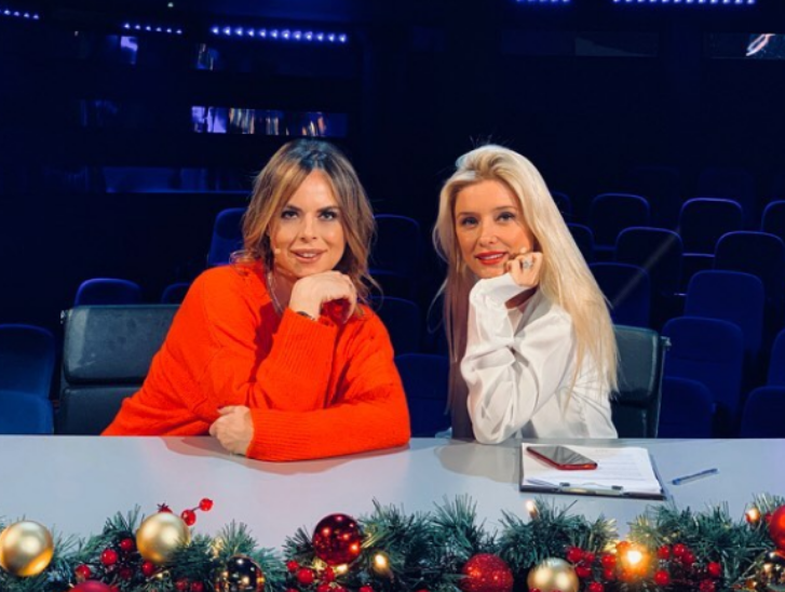 Nëntor 2018
Në "Maurizio Costanzo Show", moderatorja e njohur Paola Perego u ndal gjatë te televizioni shqiptar, e në veçanti si shembull mori Alketa Vejsiun.
"Ata bëjnë televizion të nivelit të lartë! Unë kam vizituar studiot televizive në Tiranë dhe janë fantastike," tha Perego. "Aty kam takuar edhe Alketën, e cila është prezantuese shumë e njohur atje, jemi bërë edhe mike tani. Ajo bën programet e Bonolis-it në Tiranë, si "Piter Pan" dhe është e zonja."
Përpos kësaj, kur Paola ishte e pranishme në "Dance with me", moderatorja i tha "shihemi shumë shpejt në Itali".
Shkurt 2019
Në shkurt të 2019-s, Vejsiu udhëtoi drejt Italisë për të takuar Lorella Cuccarini-n (balerinë, moredatore, këngëtare dhe aktore italiane) në një prej shfaqjeve të saj, Non mi hai più detto ti amo.
"Pothuajse 25 vite më parë, i kërkova një gazetareje të televizionit publik shqiptar që të më intervistonte sepse një ditë do të bëhesha e famshme!" shkroi Alketa në Instagram. "I fola për idenë se kur të rritesha doja të bëhesha si Cuccarini."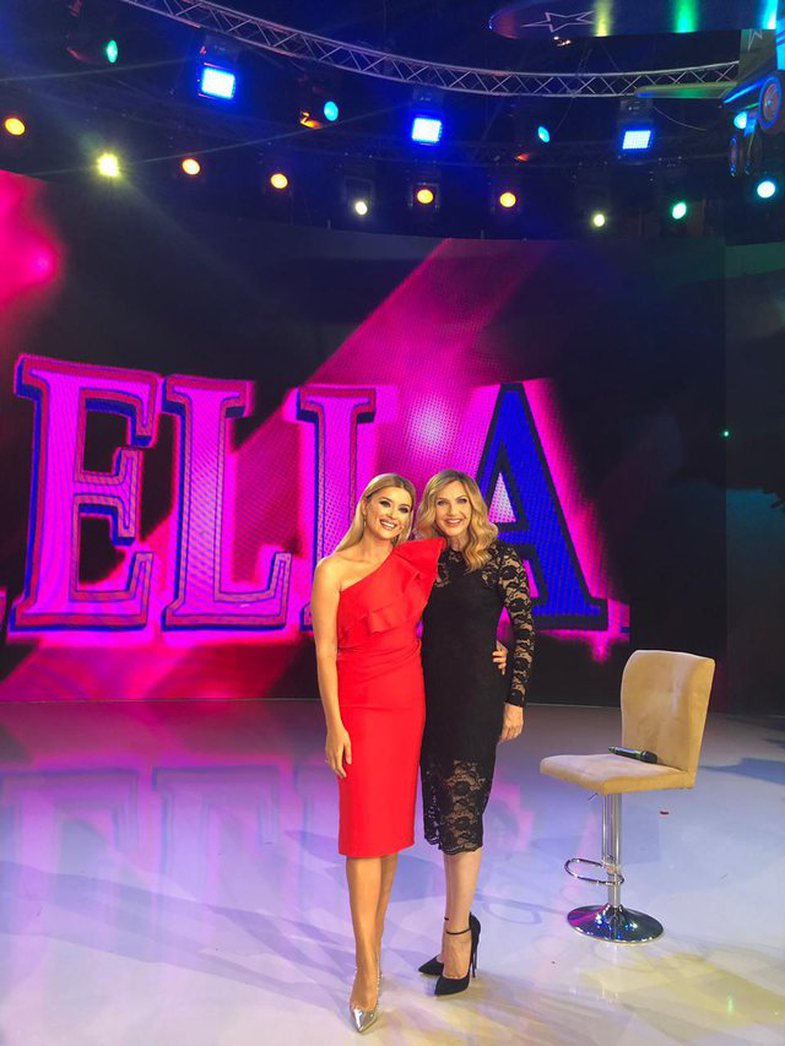 Maj 2019
Fill pas takimit në Itali, Cuccarini u ftua për të qenë pjesëmarrëse në natën finale të "Në Kurthin e Piter Pan".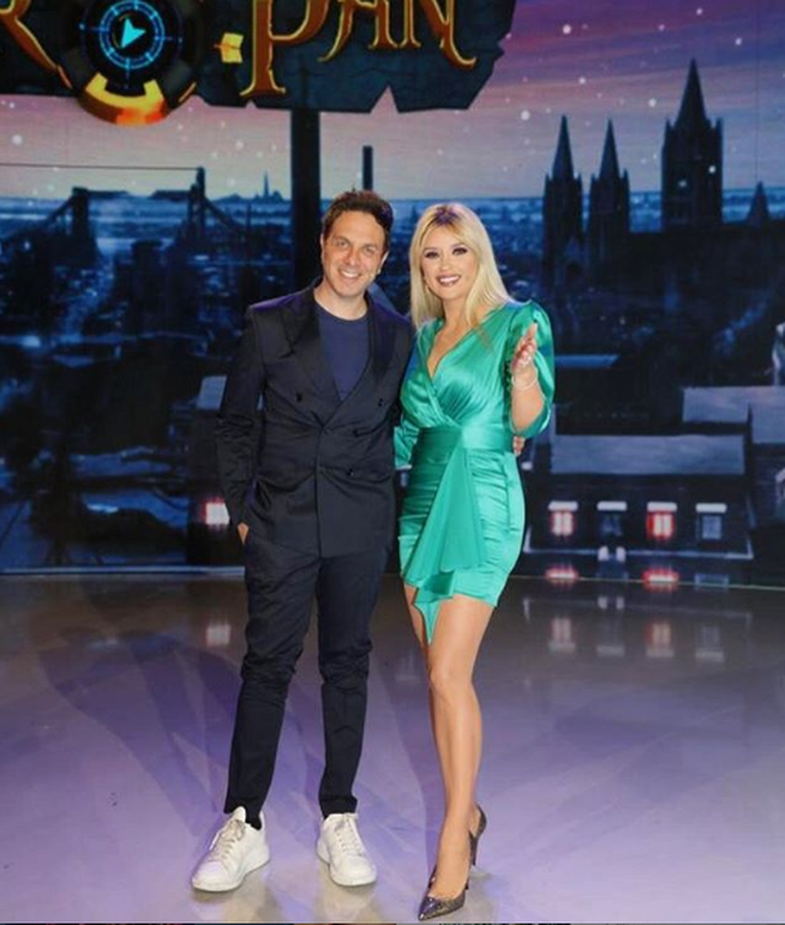 Maj 2019
Në maj, Gabrielle Parpiglia, autor i disa programeve të suksesshme në Itali si "Maurizio Costanzo Show", "L'Intervista", "Grande Fratello Vip 2" ishte i ftuar në emisionin "Në kurthin e Piter Pan" për të biseduar me fëmijët në lidhje me historinë e tij. Përpara se të ishte i pranishëm në program, ai postoi në Instagram një video ku shprehte gjithë vlerësimin për Vejsiun dhe skuadrën e saj.
Festivali i Këngës – dhjetor 2019
Prej vitesh, Vejsiu po luftonte për Sanremo-n dhe sigurisht që "Festivali i Këngës" ishte një moment vendimtar.
"Unë po luftoja për të hyrë në Sanremo dhe Festivali I RTSH-së ishte një mundësi e mirë prezantimi, pasi ishte një produksion i të njëjtit lloj," u shpreh ajo për Anabel.al në një intervistë këtë janar. Ndaj duke mirëkuptuar kritikat, tani besoj është momenti që të sqaroj se unë u përpoqa të jepja maksimumin tim si prezantuese, show girl dhe po ashtu në paraqitje; në një fare mënyre të kisha sa më shumë material për të mbërritur në ëndrrën time."
"Atje unë nuk do të ngjitem thjesht si Alketa Vejsiu, por si e para moderatore shqiptare. Vërtet përpjekjet për të hyrë në tregun ndërkombëtar për këdo, nisin nga një dëshirë personale, por kur ngjitesh në atë skenë historike, merr me vete përgjegjësinë e përfaqësimit më të mirë për vendin tënd. Trofeu im sot është trofe për të gjithë shqiptarët dhe unë do të përpiqem të flas sa më mirë gjuhën tonë përpara miliona shikuesve italianë," shtoi më pas, e pyetur se "ç'rëndësi ka ëndrra personale për publikun shqiptar?"
Përsa i përket Tony Robbins, që duket se është guruja e Vejsiut drejt ëndrës së saj të hershme, ai beson se kur mendon se e ke përmbushur veten duke marrë atë që mendon se doje, në një moment a tjetër do të shohësh se gjendesh në një pozicion që s'është kurrë mjaftueshëm.
Alketa do të prezantojë në Sanremo (4-8 shkurt) në natën e tretë./Burimi: Revista Anabel